Color Concepts launches ColorBase.com – The Largest Database of Print Profiles in the World
For Release:
Capelle aan den IJssel, The Netherlands, November 2nd, 2021
Color Concepts is incredibly excited to launch its first product for print shops: ColorBase.com. This online platform is a one-stop resource for print shops and converters, and is home to a growing number of powerful color tools and rich video content that end-users anywhere in the world can use to improve their print performance. Registration and membership are free to all. 
At the heart of this platform is ColorBase's searchable, centralized collection of print profiles for the Large Format Print Industry. Profiles (encoded sets of print parameters that ensure optimal print results for a particular combination of material, ink, printer, RIP software, and print mode) are typically only available via material/printer manufacturers, meaning that print shops and converters currently juggle a variety of profile sources in their day-to-day work. "ColorBase.com's Profile Search tool is simply unprecedented," says André Venter, ColorBase.com Product Manager and Development Lead, "by building a powerful, sophisticated, and centralized profile library we are creating an unmatched level of convenience for print and sign shops. For the first time ever, these users can find the profiles they need on a single platform – all for free." 
At launch, ColorBase.com offers the largest collection of publicly available print profiles ever assembled. Print shops can currently browse more than a million profiles across a total of 3400 print media on the ColorBase platform.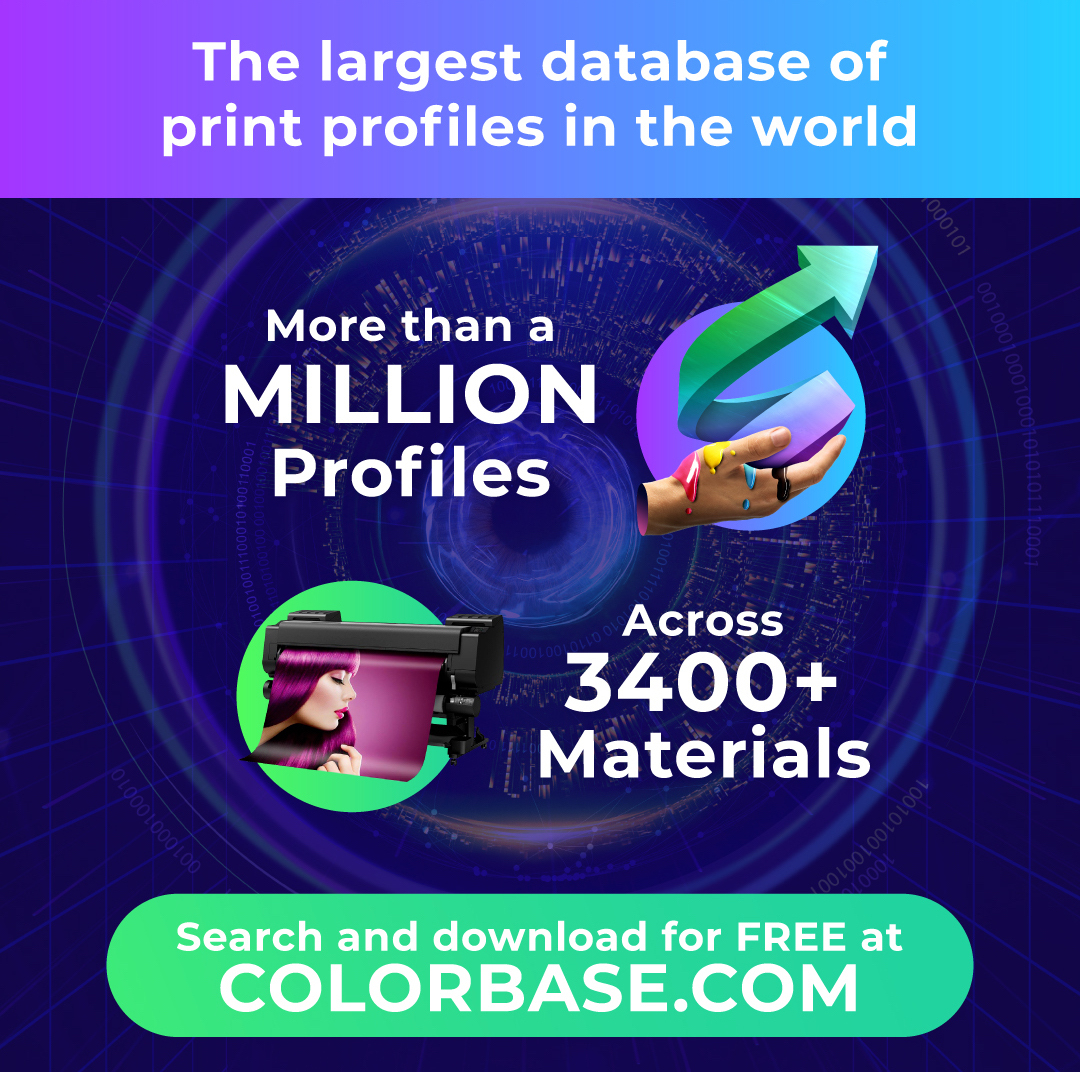 Alongside its profile library, ColorBase.com also boasts a growing collection of product videos and tutorials and is the home of Let's Talk, the Color Concepts' industry talk show hosted by CEO Marco Roos. Access to these tools and videos are absolutely free, and always will be. 
This is just the beginning. The color and material information contained within ColorBase's impressive profile library is incredibly powerful and versatile. On this foundation of 'structured data', Color Concepts is building an entire suite of both free and premium tools that print shops can use to optimize their print performance. Upcoming features offered on ColorBase.com include an ICC Creator that users will be able to operate directly in their browser, and E-Learning functionality so that anyone in the industry can work through courses and improve their skills. In short, ColorBase.com members have a lot to look forward to. 
Color Concepts has set standards in profiling, print material testing, media certification programs, education, and consulting since its inception in 2003. Today, Color Concepts leads the industry in innovation with its revolutionary ColorBase ecosystem of connected software products and services. In addition to the training, testing, and consulting services from its renowned Print Labs in Rotterdam, The Netherlands, and Salt Lake City, Utah, Color Concepts connects innovators across the industry with ColorBase Exchange, ColorBase.com, ColorBase Studios, and more.